Well, Anne had a super run. Good times had by all. On the final day of the show, I was told that I've been nominated for a "Critic's Choice Spotlight Award" here in Victoria for my sound design of Kaleidoscope's Peter Pan (Dec, 2004).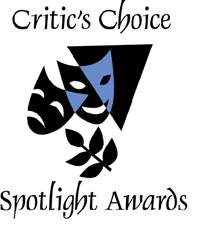 The "Critic's Choice Spotlight Awards" recognize excellence in Victoria's theatre community. The theatre critics of the Times Colonist, CBC Radio One, and Monday Magazine will chose the winners in 14 categories of theatrical production and performance. The winners will be announced on Dec 14th, 2005.
Fellow Pan designer, Sam Whittington, is nominated for his set design for the same show. Also, Pan's Hook, Roderick Glanville, is nominated for this performance.
The production of Innanna I acted in this past summer is nominated for "Fringe Production".
The Ballad of Jim Payne which starred my friend Zachary Stevenson is nominated for "Musical Production".
Congrats to all of the noinees!
Alexander