Studio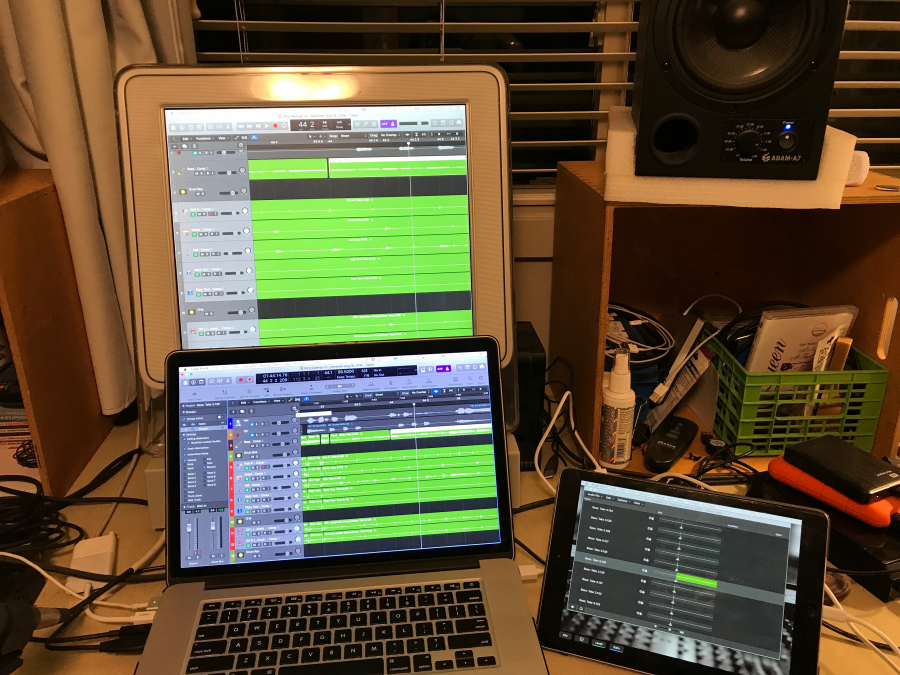 PROJECTS:
"Light Waves" EP by Impulse Response: Vocals, keyboards, programming, songwritter, recording engineer, mixing engineer, mastering engineer, & co-producer.
"Love is Love EP" by The Soul Shakers: Vocals & keyboards, songwritter, recording engineer, mixing engineer, mastering engineer, & co-producer.
"The Killer Whale Who Changed the World" Audio Book by Mark-Leiren-Young: Recording engineer, mixing engineer, & mastering engineer.
SERVICES OFFERED:
Producing, recording, and mixing solo artists, bands, & vocal groups/choirs.
Compositions/arrangements/scores/sound design for film & television, live theatre, and other audio projects.
Singing & keyboard playing on sessions.
Recording podcasts & audiobooks.
Event audio recordings & feild recordings.
Recording tape & vinyl to digital formats (CD, WAV, mp3 etc).
GEAR:
Pro Tools 12 software.
Logic Pro X software.
Mainstage 3 software.
MacBook Pro.
Adam A7 monitors.
Universal Audio Apollo 8p & Apollo Twin audio interfaces with Neve, API, Manley, and Universal Audio Unison preamp technology (10 inputs, 4 headphone mixes).
Muliple headphone options (including Sennheiser HD-280 Professional, AKG K240, & AKG K-55 stereo headphones).
4-channel stereo headphone amplifier.
Neumann U87 Ai microphone.
Apex 210B microphones (2 - matched pair).
Rhode NT1-A microphones (2 - matched pair).
Sennheiser MD 441 U microphone.
Shure SM7B microphone.
Shure SM 58 microphones (3).
Shure SM 57 microphones (2).
Hammond M3 organ & Leslie rotary speaker.
Fender Rhodes Stage Piano.
Korg Stage Vintage SV-1 keyboard (88 keys).
Korg Krome keyboard (61 keys)
Roland V-Combo VR-09 organ focused keyboard (61 keys with drawbars).
Roland Juno-Di Synth (61 keys).
Roland XP-50 keyboard (61 keys, including 4 expansion boards).
Roland A-90 keyboard (88 keys, including piano expanion board).
Roland KC-550 keyboard amp.
Fender GC23S accoustic guitar.
Yamaha Hand Made GC-6D nylon string classical guitar.
Pearl Forum drum kit (kick, snare, 2 rack toms, 1 floor tom, hi-hats, crash/ride cymbals).
8" djembe.
Rainstick.
Hitachi Direct Drive Turntable.
Many plugin effects software collections from Universal Audio (UAD), Waves, Soundtoys, iZotope (Ozone and more), Softube, Celemony (melodyne) and more...
Virtual instrument collections including "Ivory" & "Pianoteq" (pianos), "Scarbee" vintage organs & EPs, "Roland Cloud" Synths, "Trillian" (basses), "Superior Drummer" (drums), "Acou6tics" & "Eletri6ity" (guitars), "Albion One" (orchestral strings, horns, & woodwinds), "Session Horns Pro" etc.
More gear options available...